Turbine published the fourth video in the series Bringing Rohan to Life, this afternoon. The highlight of the three minute trailer is a close up of the Argonath as the camera pans around the two colossal statues. Once again Turbine have done an exceptionally good job of realising Tolkien's vision and I'm sure many LOTRO players will be eager to visit this iconic location.
I found a similar image of the pillars of the kings whilst recently searching the the internet for LOTRO related pictures and screenshots. This is not from the today's video, as that footage seems to be  set at either dusk or dawn. This picture is clearly taken at a different time of day. It shows the Argonath at ground level from the eastern bank of the Anduin. Unlike Peter Jackson's version, these statues appear to be carved out of the living, rather than built from quarried stone.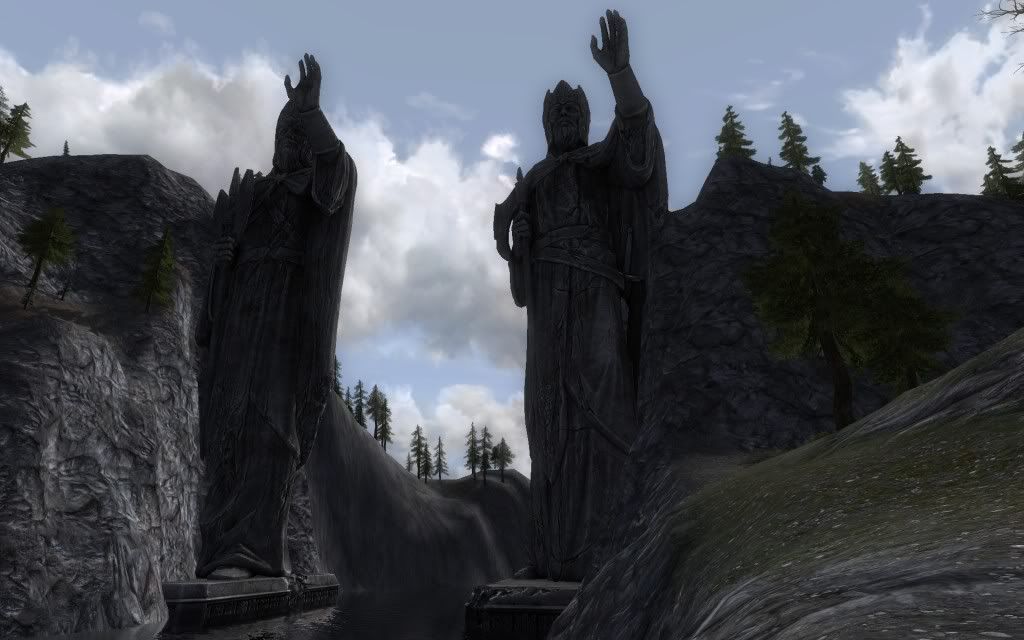 Finally, I found a somewhat bizarre screenshot of what I can only describe as a barn full of chickens. I'm not exactly sure where it is located within LOTRO, although the timber barn design does seem similar to the buildings in Stangard. Perhaps this is from the new area, although I can't verify that. It's an odd, quirky picture, but LOTRO is no stranger to such things. Consider the Cat Lady's house for example. Perhaps there's a story behind this scene.
Here's the new video for your enjoyment. Bringing Rohan to Life: Episode IV: Creating the Character.